How Sensear helps protect hearing while still allowing for clear communication for the San Diego Police Department, Special Events Division
---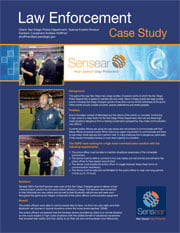 For the San Diego Police's Special Events Department, functioning in high noise is the norm, due to the larger number of attendees and the nature of the events they are working (i.e. concerts, or ball games). Not only are these high noise situations dangerous from a hearing conservation perspective, they make communication very difficult.
Police officers were using two-way radios and cell phones to communicate with their fellow officers at these special events. When there was an urgent requirement to communicate and there was high noise, these devices didn't perform well. In many instances this is dangerous, particularly if they require immediate backup or must react urgently to a situation.
Hear how Sensear worked with Lieutenant Andrew Hoffman of the San Diego Police Department, Special Events Division to help alleviate their issues.
Fill out the form on the right to download this case study to learn more.