See how Sensear has solved high-noise communications problems for other oil and gas companies around the globe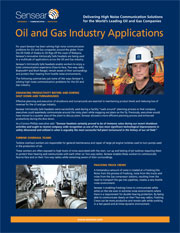 From the oil fields of Alaska to oil rigs off the coast of Malaysia, Sensear's innovative intrinsically safe headsets are being used in a multitude of applications across the oil and gas industry. Sensear's intrinsically safe headsets enable workers to enjoy a total communication experience (face-to-face, two-way radio, Bluetooth® and short range), remain aware of their surroundings and protect their hearing from hostile noise environments.
Download this case study to learn just some of the ways Sensear is solving high noise communication problems for the oil and gas industry.