How Sensear helps protect hearing for Montgomery County Solid Waste District employees while still allowing for situational awareness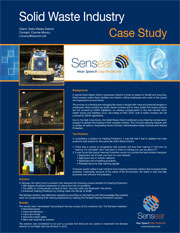 Read how Sensear created "remarkable" results for the Montgomery County Solid Waste District, according to the key contact. While workers believed that losing their hearing was inevitable, most noise cancelling solutions exposed them to numerous hazards.
Read this case study to see how Sensear headsets minimized errors, improved efficiency, improved morale, improved overall safety, and were well received by workers.
Fill out the form on the right to download this case study now.