The SM1P-Ex Series
---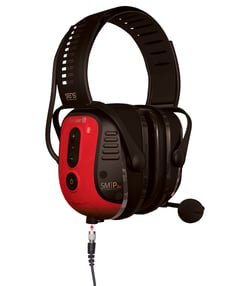 Be the productivity and safety leader in your industry with our unique and innovative SENS® Technology providing hearing protection, 360° situational awareness, and total communication (face-to-face, two-way radio, Bluetooth, and Short-Range Headset-to-headset). The SM1P-Ex provides essential features and benefits to improve safety, reliability, and efficiency in high noise and hazardous work environments. Sensear's new industrial headset platform offers a robust design adhering to higher noise reduction standards. These headsets use Sensear's SENS® technology to enhance speech and suppress noise while the noise-canceling boom mic filters out background noise so that only speech is transmitted through the microphone. SM1P-Ex's Bluetooth® module also allows for the streaming of audio to the headset.
The SM1P-Ex series is Intrinsically Safe certified to ATEX and IECEx standards, as well as UL and CSA standards for use in Hazardous Environments
Download the SM1P-Ex series datasheet now by filling out the short form to the right of this page.